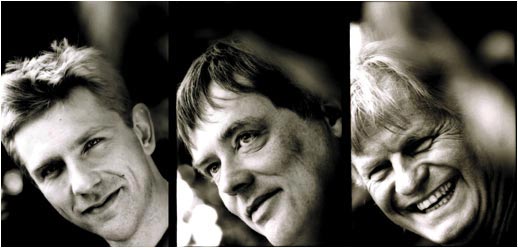 Carsten Dahl (piano)
Mads Vinding (bass)
Alex Riel (drums)
The musical partnership of drummer Alex Riel and veteran bass player Mads Vinding goes back many years and is known to be one of the best European bass/drum constellations a soloist can wish for. Add another of the greatest talents coming out of Denmark in recent years, pianist Carsten Dahl - now widely recognized on the international jazz scene as well - … and you have one helluva trio!
The Dahl / Vinding / Riel trio is characterized by a unique interplay between three top class musicians and close friends, who are each equilibrists on their instrument. Their deep mutual understanding of each other's playing generates an outcome that is always energetic, playful, surprising, entertaining and refined.
The band members' sheer joy of playing together and their eagerness to challenge - and not least tease each other - in their improvisations is obvious in the music as well as on their faces! Let there be no doubt: these guys do NOT know what will happen when they go on stage!!
And so a concert with Dahl / Vinding / Riel always leaves the audience spellbound - whether it be by the trio's astounding musical detours whenever the music and the mood calls for it, or by their beautiful lyrical interpretations of ballads.
The Dahl / Vinding / Riel trio has received national and international acclaim, including several Danish Grammy's for their recording "Six Hands, Three Minds, One Heart". A new CD is on the way …

Undoubtedly one of the most exciting European piano trios around!

BOOKING: www.musang.dk
For further info on the trio members please check out:
www.vinding.dk
www.carstendahl.dk