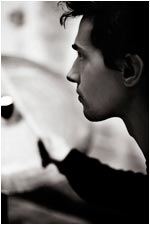 Stefan Pasborg was only 3 when he got his first snare drum from his god father, who happened to be no other than leading Danish jazz drummer Alex Riel.
That turned out to be the beginning of not only a great love for the instrument and the music that Alex made sure he listened to, but also a great career! Today Stefan's name is hard to miss on the Danish jazz scene where he is playing in various constellations, not least his own groups. He's a drummer you pay attention to not only in Denmark but also abroad, for his innovative ideas and eminent skills. And so, Stefan has already worked intensively with several international names such as Ray Andersson, John Tchicai and Tomaz Stanko besides most of the Danish jazz elite. Stefan is not easy to pigeonhole as he's moves around easily between various rhythmical genres, whether it be avantgarde, mainstream jazz or more rock orientated music. He seems to enjoy challenging the genres and has never been afraid to do so. Judging from the reviews of his performances and his increasing fan base it certainly seems like his courage is being rewarded.
In 2006 Stefan was asked to perform on the only drummer-festival in the world, the DramBlu festival in Lithania, in a constellaton of his own choise. And so, Stefan asked Alex to team up with him for a drum duet / battle. This would be the first time the two of them shared the same stage ever since the time in Stefan's childhood, where they would make a whole lot of noise together on the drumkit in Alex' living-room.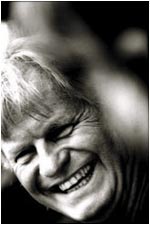 Representing two generations of modern drumming, Stefan and Alex chose to pay tribute to some of the Greats from earlier generations: Gene Krupa, Big Sid Catlett and Zutty Singleton, who's way of playing never cease to amaze and inspire.
Their performance in Lithania turned out to be an overwhelming success and something so enjoyable that they both wanted it to be more than a one-off thing. And so they recently performed in Copenhagen Jazzhouse with an hour-long and non-stop drum duel that brought the house down! This concert was recorded and is planned to be released in some format. Besides, part of the Lithuania duet is included on Stefan Pasborg's new release "Tripple point".
This meeting between Pasborg and Riel becomes interesting not only from a personal perspective but certainly from a musical perspective as well. It's a fascinating and surprising experience to see and hear the amazingly powerful drive of the young meet the laid-back energy of the older and experienced. And yet there's this obvious connection between them .. a mutual understanding of where they come from musically and personally, that makes their common output seem so "together" and fills it with a lot of humour and warmth.
"Drum Face" was a riff made by the legendary Zutty Singleton. It refers to the often funny looking face drummers make when they solo! Stefan and Alex' drum battle takes you through not only several drum faces but also several drum phases as they improvise their way through jazz drumming history.
For more info on Stefan Pasborg please check out www.pasborg.dk
BOOKING: drummer@alexriel.dk or stefan@pasborg.dk