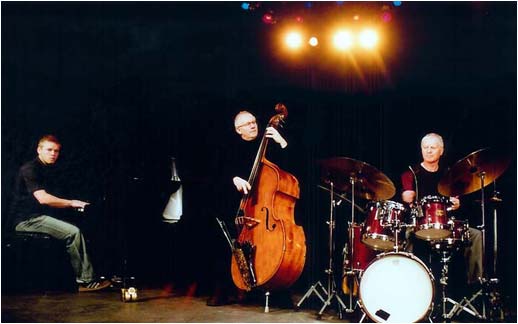 Alex Riel (drums)
Heine Hansen (piano)
Jesper Lundgaard (bass)
It was a dream come true when Alex Riel formed his own trio with Heine Hansen on piano and Jesper Lundgaard on bass. "I see this trio as my musical playground where I can try out my ideas, take chances and play tunes I've always wanted to take up. And to do so in the company of such bizarrely good musicians as Heine Hansen and Jesper Lundgaard is both a huge challenge and amazingly inspiring!" says Alex Riel about his trio.
Alex Riel is one of Europe's most celebrated and widely performing drummers. Known for his original style and his ability to listen to his fellow players, he has since the 1960s been widely sought after by European and American musicians. Piano trios have held a special place in Alex Riel's heart ever since he toured with the Bill Evans Trio at the age of 25. Since then, he has accompanied a star-studded parade of eminent jazz pianists, such as Oscar Peterson, Billy Strayhorn, Kenny Drew, and in recent years Michel Petrucciani, Kenny Werner, Enrico Pieranunci, and John Taylor.
Jesper Lundgaard has been Alex' musical partner and playmate for years. As a matchless bass player with big sound, amazing swing, and superb melodic sense, Jesper Lundgaard is widely held to be among the world's best. Alex Riel about Jesper Lundgaard: "Jesper plays with an intensity and sensitivity which never ceases to overwhelm and move me. His unique tone and responsiveness as a player is a gift for a drummer like me, who loves to improvise and go with ideas that are born of the moment."
Heine Hansen is one of the greatest contemporary talents within the Scandinavian jazz scene. The young pianist is a unique source of inspiration for the trio's experienced masters with his melodic sensitivity in the ballads and rhythmic drive in up-tempo tunes.
Their highly acclaimed debut CD "What Happened?" reflects the trio's strong vibe and features Heine Hansen's evocative compositions and surprising interpretation of standards. Shortly after it's release "What Happened?" topped the list for best selling international jazz release in Japan.
Alex Riel Trio's second CD "The High & The Mighty" is a wonderful spell-binding live recording from the Copenhagen Jazzhouse. Just like it's predecessor, this release has topped the bestseller lists in Japan and recieved excellent reviews.
Alex Riel Trio
What Happened? (Cowbell 2005)
The High And The Mighty (Cowbell 2007)
BOOKING: booking@cowbellmusic.dk